MPT'S HIGH ROLLER III OFFERS GREATER EFFICIENCY, SAFER OPERATION AND TIGHTLY ROLLED MATS
The High Roller III machine incorporates features of both of our original models the High Roller and the EZ Roller mat rolling machines. It provides the larger width design of the High Roller to roll wider mats and the ergonomic slanted bed of the EZ Roller for easier access and reduced strain on the operator.
The large area single belt roller bed allows for inspection of the mat for quality before rolling. One operator operation – rolled mat returns to operator for put away.
It can roll mats up to 6' wide and 20' long. From lift table, to roller, to storage the average operator can roll up to 165 mats per hour with ease – twice the average hand-rolling rate.
SPECIFICATIONS
High Roller III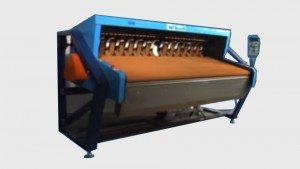 Dimensions

High: 60 1/8 inches
Wide: 90 9/16 inches
Deep: 54 15/16 inches

Shop Air Required: 80 PSI
Air Use per Hour: 4 cu ft.*
Electric: 110v, 1ph, 60hz, 12 Amp**
Motor Size: 3/4hp, DC Drive
Weight: 1300 lbs.
* Air use based on unpressurized cylinder volume at 200 operations per hour.
** High Roller III CE Compliant Model: Voltage matching transformer allowing for versatility of multiple
voltages for operation plus isolation.
Additional Information
• NEW SINGLE BELT TECHNOLOGY
• SAFETY LIGHT CURTAINS
• EASY FEEDING, INCLINED BED
• ERGONOMIC ADJUSTABLE HEIGHT BED
• ROLLS LATEX, RUBBER AND VINYL-BACKED MATS
• VIRTUALLY NO PINCH POINTS
• SAND TRAP WITH REMOVABLE PAN
• UNIT COUNTER AND CUMULATIVE TIME USEAGE METER
• SELF-STARTING ROLL
• TIGHT ROLLING – 2" CENTER DIAMETER
••• CE COMPLIANT MODEL AVAILABLE